Work Series™ All Steel All-Position (ASA)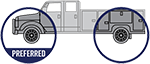 The Cooper® WORK Series™ ASA provides your fleet with a 17/32nds all position tire engineered for regional and pick up and delivery applications. Optimized for final mile delivery, the scrub resistant compound, all steel construction, curb bar, and stone ejectors combine to resist the hazards associated with urban applications. This Low Cost of Ownership™ tire is all about savings including a casing designed and warranted for multiple retreads and a full replacement value warranty for the first 50% of treadwear. Features Scrub resistant compounding 225/70R19.5 Size is N (87mph) Speed Rated Aisle siping controls irregular wear Unique stone ejectors in grooves Wear Square® Visual Wear Indicator 3PMSF certification Competitive Comparison* Michelin XZE Bridgestone R238 Goodyear Endurance RSA Continental HS3/HSR+ Yokohama 104ZR Firestone FS561 Hankook AH35 *Please consult vehicle manufacturer's certification labels for proper tire application information. Cooper® Tire recommends you always consult a tire service professional when selecting tires for your vehicle.
Error: You need to add at least two tires to compare.
Error: You've reached the maximum amount of tires to compare.
{product.altText}